Our very own CyberDERM Simply Zinc Ultra was selected as one of the best sunscreens for darker complexions, that thoroughly protects your skin while not leaving a dreaded white cast.
The team at StyleCaster has included our cult-classic CyberDERM Simply Zinc Ultra SPF on this list of must-try mineral sunscreens for it's ability to protect while being light weight and sheer.
From how to get an effortless glow to the trick behind a flawless complexion, there's nothing we love more than when celebrity makeup artists spill their beauty secrets. Our own CyberDERM Simply Zinc Ultra Sunscreen is featured as a favourite celebrity skincare product to keep their skin protected and glowing year-round.
Best Health has put together a list of the top sunscreens that reflect harsh UV rays the best, as well as helping educate Canadians on the benefits of choosing mineral sunscreens and the differences between physical vs chemicals spf's.
Both our Ava Isa and CyberDERM sunscreens were named to this list of the best mineral sunscreens on the market in Canada. It's a great read that you should definitely check out!
EVERYGIRL names our very own Ava Isa SPF to their list for simple skincare in your summer beauty rotation. They know SPF is the most important step in any skincare routine.
Chemicals are out. Clean sunscreen is in. In their latest Beauty Inc issue, the WWD recommends our Ava Isa mineral SPF as a better, safer alternative to traditional formulations. Read the full article to learn more.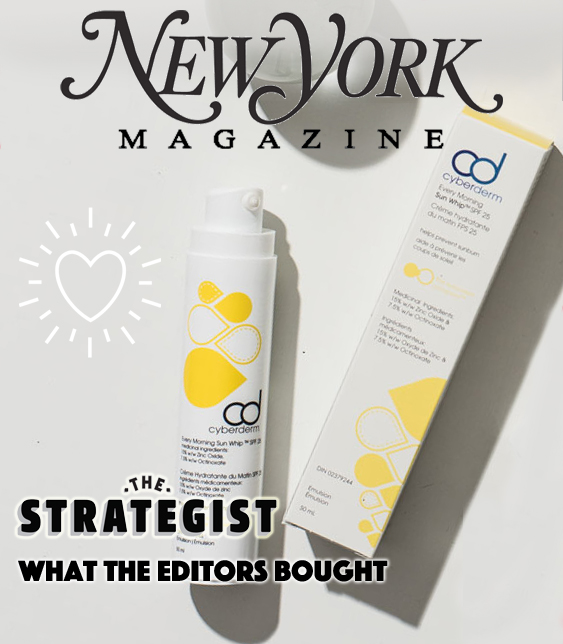 Editors at The Strategist carefully curated a list of their must-have products for spring and our CyberDERM Every Morning Sun Whip was the only sunscreen to make the cut.
Find out why it's their go-to SPF.
Our CyberDERM sunscreens have become a cult favourite among celebrities, so the ladies at Essence Magazine tested them to see how it performed on a range of darker skin tones. Simply put, they all loved it and went a step further by adding our Every Morning Sun Whip to their morning skincare regimen.
A big thanks to the ladies at Essence for putting us to the test and showcasing how great our sunscreens perform on a wide range of skin tones. We appreciate you!
Celebrity facialist, Joomee Song, shows us some love by finishing off her celebrity skincare treatment with our very own Simply Zinc Ultra SPF for premier skin protection. Read this great write-up in Coveteur to see the latest beauty treatments that celebrities are using to get ready for the 2019 Met Gala.
Check out the upcoming May issue of Harper's Bazaar to see their top beauty tips and best skincare recommendations. This Beauty Issue features our very own Simply Zinc Ultra as an essential face sunscreen in their guide to the perfect sunscreen.
Cosmo names our CyberDERM Simply Zinc Ultra SPF 50 one of the best natural sunscreens you should already be using.
Jennifer Brodeur, the celebrity facialist to both Oprah and Michelle Obama, shares her advice for great skin. One of her key recommendations to her celebrity clients is the daily use of our CyberDERM Simply Zinc Ultra sunscreen for glowing skin with uncompromised protection.
We are humbled and very grateful for our products to be included in her valuable skin care advice!
In their feature story, De Cara Al Sol, People en Español showcase the best sunscreens on the market for ultimate skin protection. Our very own CyberDERM Every Morning Sun Whip made the list as the most innovative sunscreen offering full broad spectrum protection with it's hybrid formula.
Check out the full article for more information.
Our friends at Mi-Mollet in Japan name our Ava Isa Pure Untinted Ultra Matte SPF 45 as their favourite sunscreen ever! They also recommend adding our CyberDERM Every Morning Sun Whip to your morning routine.
Use Pregnancy Safe Sunscreen To Keep You And Your Baby Safe
Think all sunscreens are safe for use in pregnancy? Check out our co-founder Dr. Denis Dudley in Women's Health Magazine sharing his thoughts on why everyone from pregnant and breastfeeding women, to couples looking to conceive and children should only reach for mineral sunscreens.
The Simply Zinc Ultra and Michelle Obama Connection
Thanks to Refinery 29 for sharing this tidbit- Michelle Obama and her celebrity facialist, Jennifer Brodeur, love the Simply Zinc Ultra SPF 50 and use as part of her daily regimen. We are absolutely blown away and humbled to be considered by these two lovely women.
Our sunscreens top the list of best facial SPFs on the market to protect you from sun damage.
All of our sunscreen formulas made Beauty Editors Best Sunscreens for the Face list for 2018.
Check out her post for the full scoop on our Every Morning Sun Whip SPF 25, Ava Isa SPF 45 in Aurora Rose and Pure and our new Simply Zinc Ultra SPF 50.
Check out her full review:
The Sunscreen Company Brand Feature on Pur Opulence
Kiara from Pur Opulence gave our company the once over with her keen beauty eye, showcasing some of her favourites from all three brands Ava Isa, CyberDERM and Natrèceutique. Check out her product recos and more.
Everything you need to know about sunscreen: from Life with Zandra
Sara Dudley, our Executive Director, caught up with Zandra of Life with Zandra to talk sunscreen. What makes a good one? What are popular sunscreen myths? We talked our full line from CyberDERM (including her favourite sunscreen Every Morning Sun Whip SPF 25) Ava Isa, and Natrèceutique.
Click to read the full post:
Best Tinted Sunscreens: Ava Isa SPF 45 and Simply Zinc Ultra SPF 50
Both Ava Isa Aurora Rose SPF 45 and Simply Zinc Ultra SPF 50 get top nods as best tinted sunscreens in Beauty Editors Top 2018 List for Tinted Sunscreens.
Check out her full review:
Essential oils have become a mainstay in many natural brands, however, consumers continue to look for alternatives that give them the same luxurious skin benefits without the chance of irritation.
Check out Natrèceutique in the July issue of Allure Magazine on a new way to formulate green beauty.
Gothamista makes Every Morning Sun Whip a March Favourite
Renée of Gothamista is a go-to source for all things skincare. She's one knowledgeable woman when it comes to sunscreens especially so we were thrilled when she made our Every Morning Sun Whip SPF 25 one of her March Favourites! We're in great company so thanks Renée for including us!
Click here to view her video and make sure to subscribe to her channel:
Nu-Shroom Hydrafill Serum as top hydrating serum by Beauty Editor
Our magical Nu-Shroom Hydrafill Serum gets a nod as a top hydrating serum from our favourite Beauty Editor (Beautyeditor.ca). Light weight yet intensive hydration, see why she thinks it's worth checking out.